How to Visit Dallas the Right Way
Second Stop: Dallas, Texas
A city that surprises, and a destination that inspires big ideas. No, this isn't the Dallas you thought you knew; this is a new Dallas. As the ninth-largest city in the country, Dallas is already one of the country's leading hubs for business and innovation. With all of this, it's no surprise that Dallas would be on my short list of places to relocate to. While Atlanta was ah-maz-ing, Dallas really took me by surprise.
I was so excited to travel to Texas, after all, Dallas is where my siblings that I haven't seen in 15 years live. That was a huge draw for me to consider Dallas in my relocation options, but what I wasn't expecting was to love Dallas as much as I did. I wasn't expecting to encounter such an electric city! And don't get me started on the quality of people! They were so, so nice! Even if it's not the first stop on the relocation list for me, I can truly see myself calling Dallas home one day.
Find out why:
Where to Stay
Hilton Anatole Hotel
You wouldn't normally expect a hotel to be like its own little oasis, but that's exactly what the Hilton Anatole Hotel is; an oasis just north of downtown Dallas. It's seriously so impressive with 45 (!) acres in the vibrant design district. It has seriously everything a person could need while traveling, and is perfect for both families and those traveling for business alike.
Parents, this hotel is a hidden gem in family travels. I don't know how I didn't know about it before, but it basically has a water park on the hotel property. It includes a leisure pool with swim-up bar (heyy-o!), a beach-entry family pool, a lazy river, luxury cabanas, a splash zone with two 180-foot slides, JadeWaters Grill & Bar and more!
They offer daily games in the park, family movies on Friday and Saturday nights, Saturday afternoon pool party and other fun activities are also available for kids. Click here for a list of events and activities.
For my business folks, the Hilton Anatole Hotel also has you covered! They have everything you could possibly need to make sure your business doesn't lax, even if you're craving some down time. They have a full function business center with audio/visual equipment rental, express mail, fax and a full service FedEx store. If you need a more private space but don't want to use your amazing hotel room, they have meeting rooms and office space rentals available. Need an official document signed? There's a notary public available! Need to video conference someone? They have that too. You guys. This is the end-all be-all of hotels.
And for when the kids have worn you down, or the business time is over and it's time to play, they have the Verandah Club, an award-winning health and fitness facility that provides you with everything needed to help meet your individual wellness goals. It is 80,000 square feet of state of the art fitness heaven. Or if relaxation without the work is more your style, you can visit the V Spa for a massage or a mani/pedi.
There are also four restaurants on the property so you don't even have to leave to see the best of Dallas, but trust me, you want to make time to, because there's just so much to see here.
Website || Address: 2201 NORTH STEMMONS FREEWAY, DALLAS, TEXAS, 75207, USA
Where to Go
Dallas Arboretum
The Dallas Arboretum was so incredibly peaceful; like a hidden getaway in the middle of the city. It's stunningly beautiful, and Honor and I loved getting to listen to music by the White Rock lake. It has two mansions on the property and the Rory Meyers Children's Adventure Garden was designed to connect children with nature. It's a great romantic spot to go with your loved one, or to take the family.
Website || Address: 8525 Garland Road, Dallas, Texas 75218
The Dallas World Aquarium is a must see when going to Dallas. I think if we moved here we would even get season passes so that we could make it a regular educational pit stop in our routine. The exhibits feature different areas of the world, like it's name suggests, and it's so cool to feel like your getting an inside look into the wildlife of far away lands. Our favorite part were the sharks in the Mundo Maya exhibit. Be sure not to miss them when you take your family here!
GeO-Deck at Reunion Tower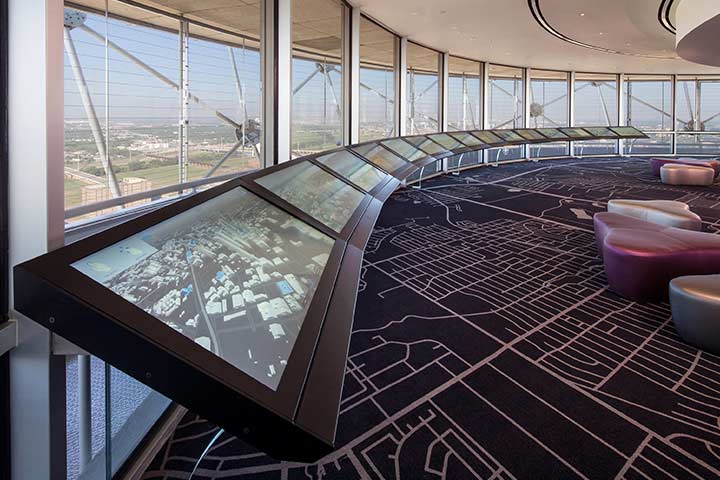 Well, we wanted a look at Dallas, and Visit Dallas didn't disappoint. The took us straight to the top of it so we didn't miss a thing in our way too short 4 day trip. The GeO-Deck at Reunion Tower as like being on top of the world. We could see all of Dallas from the 360 degree tower in the sky. It's 470 feet in the air and you take a quick 68-second elevator ride to get to the top. It's an expeirence unlike any other that you have to check out while in Dallas, Tx.
Website || Instagram || Facebook || Twitter
Deep Ellum
The art district, othewise known as Deep Ellum, is a good hipster spot to emerge yourself in art, shopping, and music. It is a trendy and hip area of modern Dallas, and the headquarters for live music. In the early 1900's, it was the hotbed of the blues and of African-American life and culture. Today, in addition to blues, the area swings with everything from jazz to alternative beats. Honor and I became especially enamored with a shop called Jade and Clover (as you can see by the photo above, Honor made herself at home on their pink couch by our second visit.
I don't know if you can tell by my smile, but the food in Texas is too legit to quit. Also, I know you guys know about chicken and waffles, but did you know that chicken and donuts is a new thing? Dallas is ahead of their game when it comes to food. From kitschy cool food truck parks, to dessert on point, and Mexican food that is beyond anything I've had before... Dallas is worth coming to just for their food alone.
Check out the places I went and be sure to go in person when you visit Dallas for yourself! H says her favorite place was the Cake Bar, and who could blame her? It was soooo good.
Truck Yard: Website || Instagram || Facebook || Twitter || Address: 5624 SEARS ST. DALLAS, TX 75206
Steel City Pops: Website || Instagram || Pinterest|| Twittter || Address: 2012 GREENVILLE AVENUE, DALLAS, TX 75206
Taqueria La Ventana: Website || Instagram || Facebook || Twitter || Address: Taqueria La Ventana - Dallas, 1611 McKinney Ave, Dallas, TX 75202
Chicken Scratch: Website || Address: 2303 Pittman St, Dallas, TX 75208
Cake Bar: Website || Instagram || Facebook || Address: 3011 Gulden Lane Suite 117,
Dallas Texas 75012
Thank you to Visit Dallas
A huge thank you to Visit Dallas for hosting me on my long weekend in Dallas, Texas. Your team and your city were beyond remarkable and provided me with an unforgettable look into your culture. I wouldn't be surprised if I ended up calling Dallas home very soon!